Scalar Field Visualization



C. Pagot

,

J. Vollrath

,

F. Sadlo

,

D. Weiskopf

,

T. Ertl

,

J. L. Comba

: In Scientific Visualization: Interactions, Features, Metaphors, Schloss Dagstuhl--Leibniz-Zentrum fuer Informatik, pp. 276–291, 2011.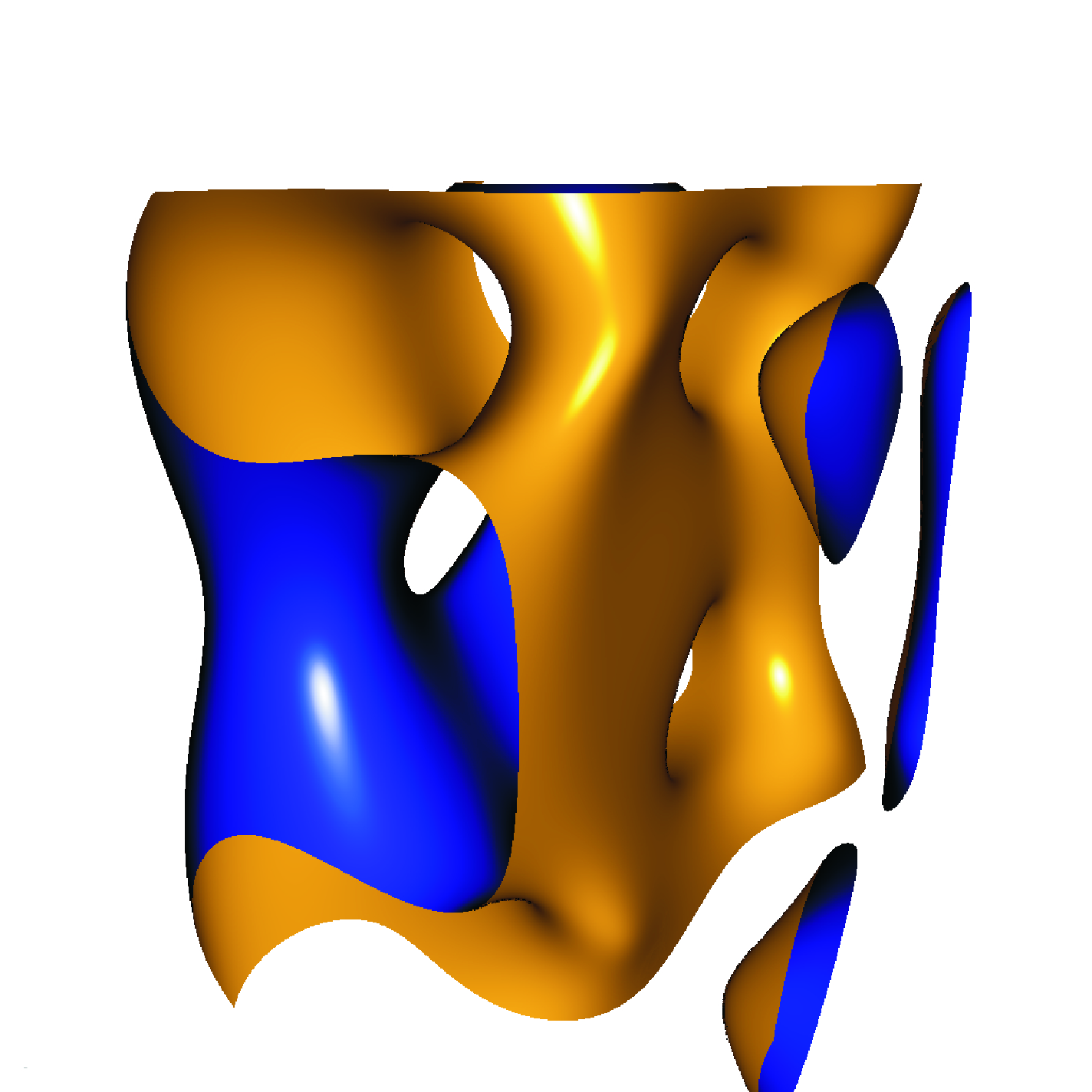 Abstract
Scientists and engineers are making increasingly use of hp-adaptive discretization methods to compute simulations. While techniques for isocontouring the high-order data generated by these methods have started to appear, they typically do not facilitate interactive data exploration. This work presents a novel interactive approach for approximate isocontouring of high-order data. The method is based on a two-phase hybrid rendering algorithm. In the first phase, coarsely seeded particles are guided by the gradient of the field for obtaining an initial sampling of the isosurface in object space. The second phase performs ray casting in the image space neighborhood of the initial samples. Since the neighborhood is small, the initial guesses tend to be close to the isosurface, leading to accelerated root finding and thus efficient rendering. The object space phase affects the density of the coarse samples on the isosurface, which can lead to holes in the final rendering and overdraw. Thus, we also propose a heuristic, based on dynamical systems theory, that adapts the neighborhood of the seeds in order to obtain a better coverage of the surface. Results for datasets from computational fluid dynamics are shown and performance measurements for our GPU implementation are given.
Available Files
[BibTeX] [DOI] [PDF]
Publications
2021
Reviewed Journal Papers

B. Zheng

,

F. Sadlo

:
Uncertainty in Continuous Scatterplots, Continuous Parallel Coordinates, and Fibers
IEEE Transactions on Visualization and Computer Graphics, vol. 27, no. 2, pp. 1819–1828, 2021.
Available files: [BibTeX] [DOI] [PDF] [Highres PDF] [Video] [Slides] [Details]


2019
Reviewed Journal Papers

B. Zheng

,

B. Rieck

,

H. Leitte

,

F. Sadlo

:
Visualization of Equivalence in 2D Bivariate Fields
Computer Graphics Forum, vol. 38, no. 3, pp. 311–323, 2019.
Available files: [BibTeX] [DOI] [PDF] [Highres PDF] [Video] [Video] [Slides] [Details]


2018
Reviewed Conference Papers

K. Sdeo

,

B. Zheng

,

M. Piatkowski

,

F. Sadlo

:
In-Situ Visualization of Solver Residual Fields
In Lecture Notes in Computer Science: High Performance Computing, pp. 294–309, 2018.
Available files: [BibTeX] [DOI] [PDF] [Highres PDF] [Details]



A. Straub

,

G. K. Karch

,

S. Boblest

,

J. Kaufmann

,

F. Sadlo

,

B. Weigand

,

T. Ertl

:
Visual Analysis of Interface Deformation in Multiphase Flow
In Proceedings of the DIPSI Workshop 2018. Droplet Impact Phenomena & Spray Investigations, 2018.
Available files: [BibTeX] [DOI] [Details]


2017
Reviewed Journal Papers

M. Bußler

,

P. Diehl

,

D. Pflüger

,

S. Frey

,

F. Sadlo

,

T. Ertl

,

M. A. Schweitzer

:
Visualization of Fracture Progression in Peridynamics
Computers & Graphics, vol. 67, pp. 45–57, 2017.
Available files: [BibTeX] [DOI] [Details]


2016
Reviewed Conference Papers

S. Boblest

,

F. Hempert

,

M. Hoffmann

,

P. Offenhäuser

,

M. Sonntag

,

F. Sadlo

,

C. W. Glass

,

C.-D. Munz

,

T. Ertl

,

U. Iben

:
Toward a Discontinuous Galerkin Fluid Dynamics Framework for Industrial Applications
In Proceedings of High Performance Computing in Science and Engineering 2015, Springer International Publishing, pp. 531–545, 2016.
Available files: [BibTeX] [DOI] [Details]


2015
Reviewed Conference Papers

S. Frey

,

F. Sadlo

,

T. Ertl

:
Balanced Sampling and Compression for Remote Visualization
In Proceedings of SIGGRAPH Asia Symposium on Visualization in High Performance Computing, pp. 1:1–1:4, 2015.
Available files: [BibTeX] [DOI] [PDF] [Details]



S. Heßel

,

O. Fernandes

,

S. Boblest

,

P. Offenhäuser

,

M. Hoffmann

,

A. Beck

,

T. Ertl

,

C. Glass

,

C.-D. Munz

,

F. Sadlo

:
Visualization of 2D Wave Propagation by Huygens' Principle
In Proceedings of Eurographics Symposium on Parallel Graphics and Visualization (EGPGV), pp. 19–28, 2015.
Available files: [BibTeX] [DOI] [PDF] [Details]


Book Chapters and Other Publications

T. Bolemann

,

M. Üffinger

,

F. Sadlo

,

T. Ertl

,

C.-D. Munz

:
Direct Visualization of Piecewise Polynomial Data
In IDIHOM: Industrialization of High-Order Methods - A Top-Down Approach, Springer International Publishing, pp. 535–550, 2015.
Available files: [BibTeX] [DOI] [Details]


2014
Reviewed Journal Papers

M. Ament

,

F. Sadlo

,

C. Dachsbacher

,

D. Weiskopf

:
Low-Pass Filtered Volumetric Shadows
IEEE Transactions on Visualization and Computer Graphics, vol. 20, no. 12, pp. 2437–2446, 2014.
Available files: [BibTeX] [DOI] [PDF] [Details]



S. Frey

,

F. Sadlo

,

K.-L. Ma

,

T. Ertl

:
Interactive Progressive Visualization with Space-Time Error Control
IEEE Transactions on Visualization and Computer Graphics, vol. 20, no. 12, pp. 2397–2406, 2014.
Available files: [BibTeX] [DOI] [PDF] [Details]



D. Koerner

,

J. Portsmouth

,

F. Sadlo

,

T. Ertl

,

B. Eberhardt

:
Flux-Limited Diffusion for Multiple Scattering in Participating Media
Computer Graphics Forum, vol. 33, no. 6, pp. 178–189, 2014.
Available files: [BibTeX] [DOI] [PDF] [Details]


Reviewed Conference Papers

O. Fernandes

,

S. Frey

,

F. Sadlo

,

T. Ertl

:
Space-Time Volumetric Depth Images for In-Situ Visualization
In Proceedings of IEEE 4th Symposium on Large Data Analysis and Visualization (LDAV), pp. 59–65, 2014.
Available files: [BibTeX] [DOI] [PDF] [Details]


Book Chapters and Other Publications

S. Boblest

,

C. W. Glass

,

P. Offenhäuser

,

F. Sadlo

,

M. Hoffmann

:
HONK - Higher-Order Methods for the Simulation of Complex Flow Phenomena
Innovatives Supercomputing in Deutschland (inSiDE), Gauss Centre for Supercomputing, vol. 12, no. 2, pp. 67–71, 2014.
Available files: [BibTeX] [PDF]


2013
Reviewed Journal Papers

M. Ament

,

F. Sadlo

,

D. Weiskopf

:
Ambient Volume Scattering
IEEE Transactions on Visualization and Computer Graphics, vol. 19, no. 12, pp. 2936–2945, 2013.
Available files: [BibTeX] [DOI] [PDF] [Details]



K. Scharnowski

,

M. Krone

,

F. Sadlo

,

P. Beck

,

J. Roth

,

H.-R. Trebin

,

T. Ertl

:
Visualizing Polarization Domains in Barium Titanate
IEEE Computer Graphics and Applications, vol. 33, no. 5, pp. 9–17, 2013.
Available files: [BibTeX] [DOI] [Details]


Reviewed Conference Papers

S. Frey

,

F. Sadlo

,

T. Ertl

:
Mesh Generation from Layered Depth Images Using Isosurface Raycasting
In Lecture Notes in Computer Science: Advances in Visual Computing (Proceedings of International Symposium on Visual Computing), Springer Berlin Heidelberg, pp. 373–383, 2013.
Available files: [BibTeX] [DOI] [PDF] [Details]



S. Frey

,

F. Sadlo

,

T. Ertl

:
Explorable Volumetric Depth Images from Raycasting
In Proceedings of 26th SIBGRAPI Conference on Graphics, Patterns and Images, pp. 123–130, 2013.
Available files: [BibTeX] [DOI] [PDF] [Details]


2012
Reviewed Journal Papers

S. Frey

,

F. Sadlo

,

T. Ertl

:
Visualization of Temporal Similarity in Field Data
IEEE Transactions on Visualization and Computer Graphics, vol. 18, no. 12, pp. 2023–2032, 2012.
Available files: [BibTeX] [DOI] [PDF] [Details]


Reviewed Conference Papers

G. M. Machado

,

F. Sadlo

,

T. Müller

,

D. Müller

,

T. Ertl

:
Visualizing Solar Dynamics Data
In Proceedings of International Workshop on Vision, Modeling and Visualization (VMV), pp. 95–102, 2012.
Available files: [BibTeX] [DOI] [PDF] [Technical Addendum] [Video] [Details]


2011
Reviewed Journal Papers

C. Pagot

,

D. Osmari

,

F. Sadlo

,

D. Weiskopf

,

T. Ertl

,

J. Comba

:
Efficient Parallel Vectors Feature Extraction from Higher-Order Data
Computer Graphics Forum, vol. 30, no. 3, pp. 751–760, 2011.
Available files: [BibTeX] [DOI] [Details]


Reviewed Conference Papers

M. Üffinger

,

M. A. Schweitzer

,

F. Sadlo

,

T. Ertl

:
Direct Visualization of Particle-Partition of Unity Data
In Proceedings of International Workshop on Vision, Modeling and Visualization (VMV), pp. 255–262, 2011.
Available files: [BibTeX] [DOI] [PDF] [Details]



C. Pagot

,

J. Vollrath

,

F. Sadlo

,

D. Weiskopf

,

T. Ertl

,

J. L. Comba

:
Interactive Isocontouring of High-Order Surfaces
In Scientific Visualization: Interactions, Features, Metaphors, Schloss Dagstuhl--Leibniz-Zentrum fuer Informatik, pp. 276–291, 2011.
Available files: [BibTeX] [DOI] [PDF] [Details]


Book Chapters and Other Publications

F. Sadlo

,

M. Üffinger

,

C. Pagot

,

D. Osmari

,

J. Comba

,

T. Ertl

,

C.-D. Munz

,

D. Weiskopf

:
Visualization of Cell-Based Higher-Order Fields
Computing in Science and Engineering, vol. 13, no. 3, pp. 84–91, 2011.
Available files: [BibTeX] [DOI] [Details]


2008
Reviewed Conference Papers

R. Peikert

,

F. Sadlo

:
Height Ridge Computation and Filtering for Visualization
In Proceedings of IEEE Pacific Visualization Symposium (PacificVIS), pp. 119–126, 2008.
Available files: [BibTeX] [DOI] [PDF] [Details]


2003
Book Chapters and Other publications

C. Bron

,

F. Sadlo

,

J. S. Schittny

,

P. H. Burri

:
Microtomography and 3D Skeleton Analysis of Vascular and Airway Trees
In Proceedings of Focus on Microscopy, 2003.
Available files: [BibTeX]


1994
Reviewed Conference Papers

C. Bron

,

F. Sadlo

,

G. Szekely

,

W. Neuenschwander

,

O. Kübler

,

J. Schüpbach

:
Segmentation and Visualization of Membranes and Intracellular Organelles Contours in 3D Electron Microscopy
In Proceedings of SPIE 2359, Visualization in Biomedical Computing, pp. 706–714, 1994.
Available files: [BibTeX] [DOI] [Details]